물성 특성장비
초음파 세척기
Ultrasonic Cleaner
FinnSonic
Ultrasonic cleaning units with load platform for maintenance.
FinnSonic M ultrasonic cleaners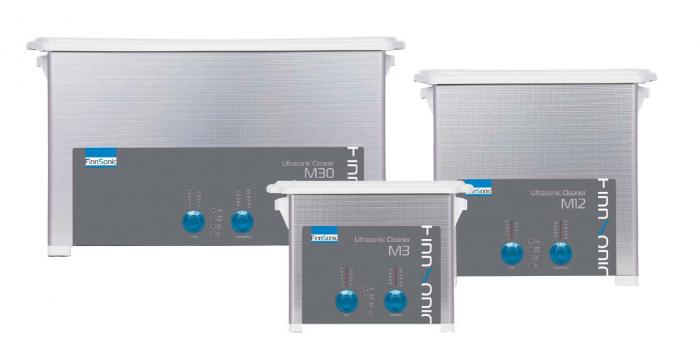 The compactly designed FinnSonic M series ultrasonic cleaners effectively remove hard to shift dirt and stains from even the fiddliest of items. The M series is the ideal choice for professional cleaning of small-to-medium sized items in small batches. It is perfect for maintenance cleaning in healthcare settings, opticians, laboratories, jewellery work, and in electronics and other industries.

The stand-out features of the FinnSonic M series are its cleaning power, durability, safety, and user-friendly design
• Heat up the cleaning agent and choose between the Degas and Boost modes to further increase the strength of clean.
• The PreSet function allows users to save preferred time, temperature, and ultrasonic mode settings.
• Automated shutdown increases safety
• Stainless steel casing and drainage valve.
| | | | |
| --- | --- | --- | --- |
| M series model sizes | M3 | M12 | M30 |
| Internal dimensions of the tank (mm) | 235 x 134 x 97 (h) | 297 x 238 x 200 (h) | 500 x 298 x 200 (h) |
| Tank volume (litres) | 1,9 | 9,0 | 20,6 |
FinnSonic MI ultrasonic cleaning machines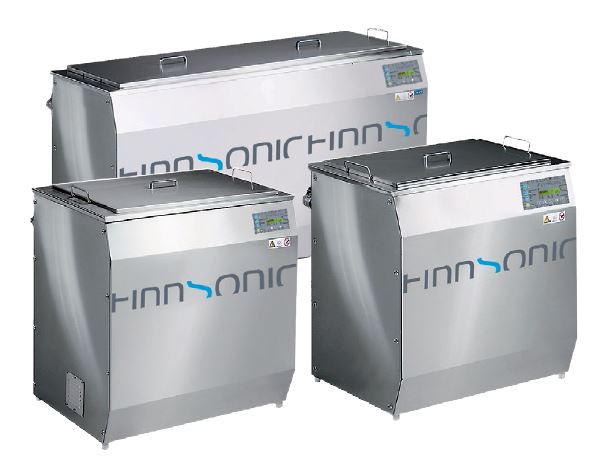 Peak performance for precision cleaning
FinnSonic MI is a compact and fast solution to conventional industrial parts cleaning needs. Operating the unit, cleaning and maintenance of the machine is simple and effortless. MI series' modules are made of stainless steel for demanding conditions and heavy use.
Ultrasonic cleaning is sufficient for typical maintenance needs. An MI machine can be expanded into a modular multi-stage washing system, if needed. The washing process can be enhanced with a host of options, thus creating even more cost savings.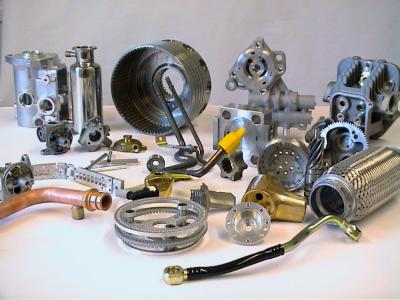 Up to 50 % shorter treatment times with FinnSonic MI ultrasonic machines
The good level of cleanliness achieved with FinnSonic MI series machines is based on an efficient ultrasound. The transducers can be mounted either to the base or to the sides of the tank, as needed. The ultrasound can thus be optimally targeted for more efficient cleaning.

Main benefits
• The new Finn Sonic ultrasonic technology provides constant maximum performance

- Automatic measuring of load - frequency and power regulation
- Fully digital generator – well-adjusted and energy efficient
- Advanced diagnostics – performance monitoring and service capabilities
- Top level of cleanliness

• Quick wash process
• Good ergonomics in manual handling of lightweight items
• A cost-effective solution
• Compact design, small footprint
| | | |
| --- | --- | --- |
| FinnSonic MI range | Tank dimensions mm | Max load kg |
| M80I | 540 x 290 x 310 | 25 |
| M120I | 540 x 400 x 360 | 35 |
| M160I | 1110 x 280 x 310 | 40 |
| M160I 2400 | 1110 x 280 x 310 | 40 |
FinnSonic Corus range for maintenance cleaning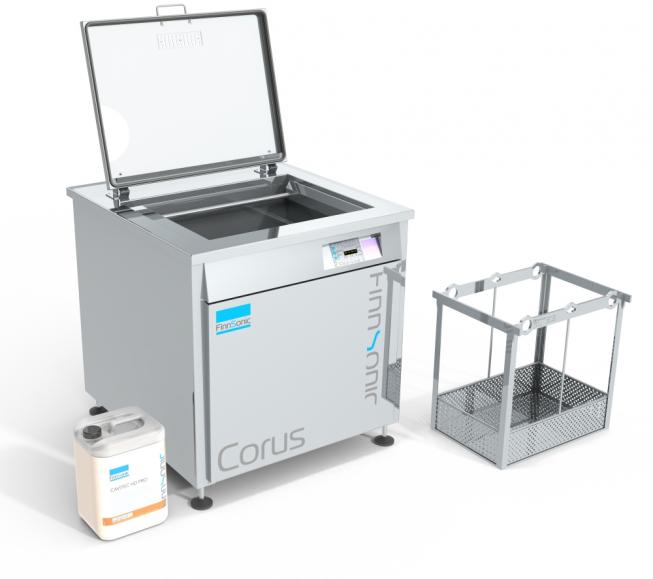 Core values for maintenance cleaning
The new FinnSonic Corus line has been designed for both the general industrial maintenance cleaning and for mould and tool cleaning. FinnSonic Corus is a smart product line with flexible configurations for an optimal cleaning result.

Main benefits
Ultrasonic cleaning has many advantages in industrial maintenance cleaning of production equipment
• Fast and powerful – saves time and labour
• Gentle – non-abrasive to the base material
• Precise – cleans also complex structures with holes and channels
• Environmentally friendly - low energy and water consumption
• Ergonomic - user-friendly design
• Safe – a controlled cleaning process in an enclosed space
With FinnSonic Corus you can count on the production equipment's reliable operation and achieving a high level of cleanliness.
• FinnSonic Genius ultrasonic technology - constant maximum performance and high level of cleanliness
• Modular – flexible process configuration for an optimal cleaning result
• Value for money
• Safe and pleasant working environment with good ergonomics and low noise level
FinnSonic Corus Activa ultrasonic cleaning units with load platform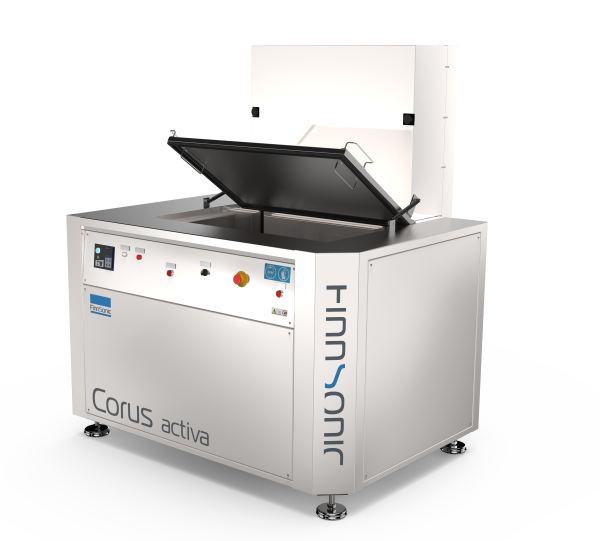 Safe and powerful maintenance cleaning
Ultrasonic cleaning is an extremely useful method for industrial maintenance cleaning. It cleans gently the hardest impurities from complex parts with only the minimal manual intervention. The cleaning process is safe in an enclosed space. It is also environmentally friendly with no need for harsh chemicals and with low energy and water consumption.
FinnSonic Corus Activa is optimized for industrial maintenance cleaning of complex parts. Corus Activa models are equipped with a truly robust integrated load platform. Sturdy platform makes loading and unloading of parts easy and safe. Platform also provides dunking movement during treatment cycle, which results in faster and more uniform cleaning with ultrasound.
Examples of maintenance cleaning applications
• Filters, sieves, heat exchangers
• Vehicle repair: turbochargers, cylinder heads, gearbox parts
• Mechanical industry: bearings, blades, nozzles, valves, sensors
• Process industry: valves, nozzles, seals, measuring devices, pump parts, pneumatic and hydraulic parts
Main benefits of FinnSonic Corus Activa

Streamlined and cost-efficient maintenance process of complex parts
• Short cleaning process
• Superior cleaning results with ultrasonic cleaning
• Reduced manual labour
• Water-based and an energy-efficient process

Safe and easy operation
• The load platform makes the handling easy
• An insulated lid keeps the heat in the tank
• Pneumatic actuation (optional) of the lid makes the operation safe and comfortable
Easy and efficient operation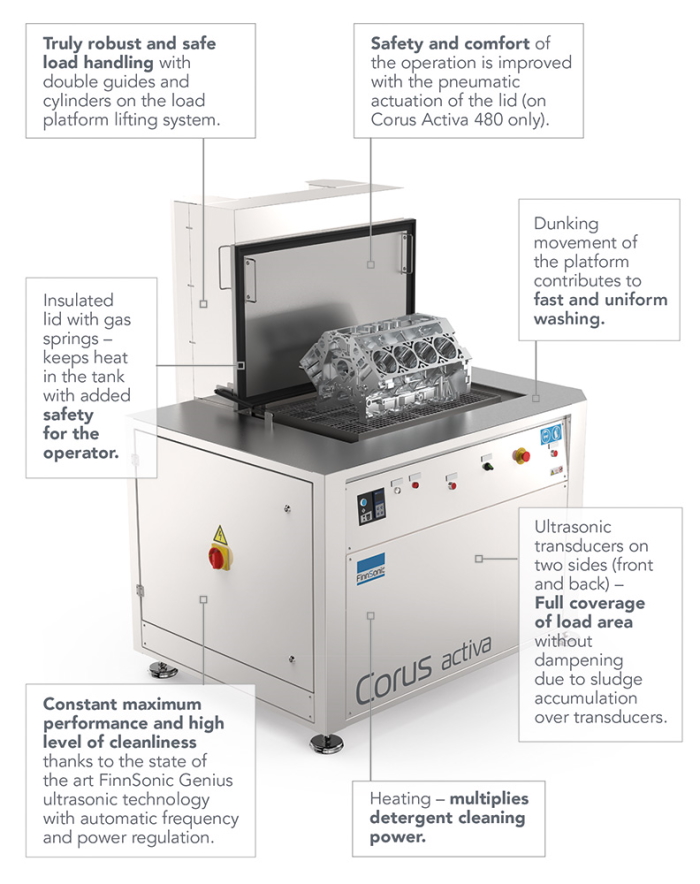 FinnSonic Corus Activa models
| | | | |
| --- | --- | --- | --- |
| | Corus Activa 240 | Corus Activa 360 | Corus Activa 480 |
| Load platform dimensions and usable height | 800 x 500 x h400 mm | 1100 x 600 x h400 mm | 1250 x 700 x h650 mm |
| Load capacity | 250 kg | 250 kg | 500 kg |
| Tank capacity | 309 l | 498 l | 898 l |
| Ultrasonic effect (nominal) | 2.4 kW | 3.6 kW | 4.8 kW |
| Heating effect | 12 kW | 15 kW | 30 kW |
FinnSonic Spintec for spray cleaning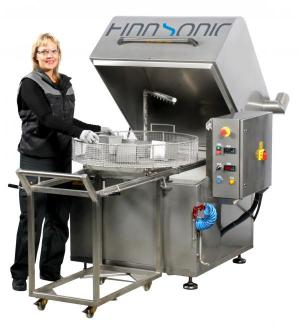 Top loading single stage spray washing machine
Parts cleaning before maintenance or between production phases is often necessary, not only for technical reasons, but also for the operators to feel good at work. FinnSonic Spintec wash machine is the solution for fast parts cleaning. Cleaning in a closed chamber upgrades conditions in the working environment.
Advantages of FinnSonic Spintec
• clean parts fast and efficiently
• easy to control with digital operating timer and temperature control
• level controller protects the functions from dry run
• durable materials: stainless steel chamber, spray pipes, nozzles, pump and valves
• safe and ergonomic working environment: lid with gas springs, safet switch and exhaust connection
• air gun for drying of the parts and adjustable feet for easy installation, standard in all machines.
Options
• Removable basket gives more possibilities for material handling in production.
• Loading trolley for ergonomically moving heavier loads.
• Heat insulation saves energy in cooler environments.
• 7-day timer heats the liquid up according to the operation schedules.
• Closed loop filtration cleans the wash liquid particle free and prolongs wash liquid lifespan time.
• Oil separator removes free oil from wash liquid and reduces waste liquid volumes.
• Automatic refill and detergent dosing ensure consistent cleaning result for longer production series.
FinnSonic Sonett automatic single chamber cleaning machine
FinnSonic Sonett is a compact multitalented single chamber cleaning machine. It cleans particles and soluble contaminants from components using spray, immersion, ultrasonic, basket rotation, hot air and vacuum techniques.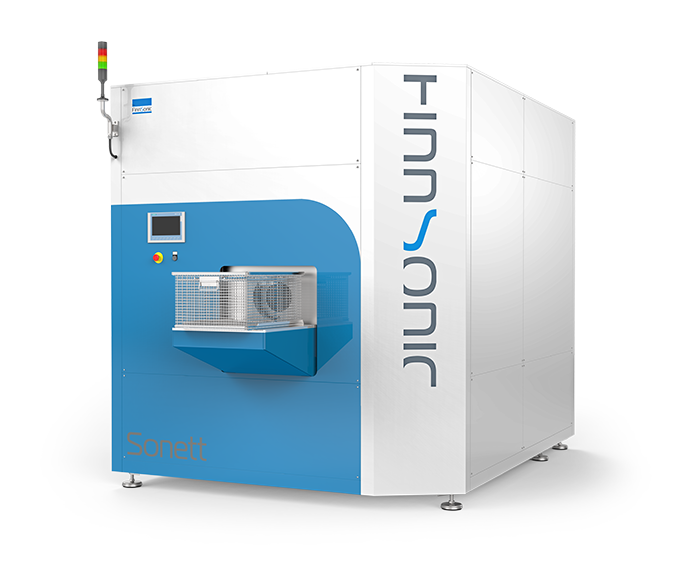 Excellent for bulk materials or complex components with blind holes and small clearances
FinnSonic Sonett is a compact single chamber cleaning machine with an automatic wash - rinse - dry cycle. It cleans particles and soluble contaminants from components with water based media, using spray, immersion, ultrasonic, basket rotation, hot air and vacuum techniques.
The combination of the cleaning techniques provides unique benefits when cleaning, for example, bulk materials or components with complex geometries with blind holes and small clearances.
Unique features and benefits
• High cleanliness levels on complex geometries thanks to the diversity / comprehensive array of cleaning techniques.
• Ease of use and reduced labor input thanks to automatic multistage cleaning cycle.
• Energy efficiency process thanks to closed chambers and thermal insulation of all tanks and vessels.
• Basket rotation

- Full coverage and even distribution of spray and ultrasonic cleaning effect thanks to basket rotation on the horizontal axis.
- Good contact of cleaning media with parts by eliminating air pockets and minimizes drag over between stages by effective draining of the parts.

• Vacuum

- Vacuum can be applied during cleaning for eliminating air pockets and ensuring wash liquid intrusion into blind holes and small clearances.
- Combination of hot air knife and vacuum provides highly capable and energy efficient drying.
Key applications
• Applications: Degreasing, particle cleaning
• Industries: Machinery, automotive, metal products manufacturing
• Components: Bulk materials, components with complex geometry e.g. blind holes, internal channels, small clearances that benefit from vacuum and/or rotation.


A wealth of cleaning techniques in a compact package